Topaz Gemstone and Jewelry
September 26, 2021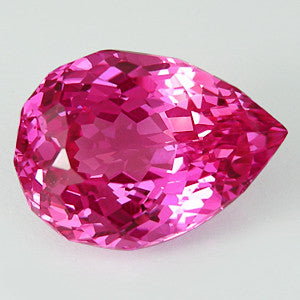 Topaz in that beautiful warm golden colour is the birthstone for November with the Blue Topaz being one of December's birthstones. But Topaz is not limited to just these two colours; rather, Topaz colours range from colourless to white, light to dark blue, pink, yellow, orange, green, red and even violet, the stunning, sensational Mystic Topaz and the equally gorgeous Mercury Topaz. 
Topaz History, Lore & Myths
Like many other gems the Topaz was known in antiquity by both the ancient Egyptians and the ancient Romans with both associating it with their sun god – in ancient Egypt and Jupiter in ancient Rome –  who not only gave the gem its beautiful golden glow but also certain mystical, magical powers such as protection, the ability to improve the wearer's eyesight, and stimulate creative ideas and untapped talents. And, in the Middle Ages, the Topaz was believed to be a healing stone.
Other interesting features of the Topaz are its clear lustre and perfect cleavage like a diamond meaning it will easily fracture.  But registering 8 on the Mohs Scale of Hardness means it can be cut into any shape. 
Topaz Colours
While Pure Topaz is white, the stone is often heat treated by a radiation process known as irradiation to enhance the colour. This is particularly true where the Blue Topaz is concerned and possibly the Pink Topaz as well. The deep blue is certainly beautiful but the Pink Topaz is the most beautiful colour of pink I have ever seen and something you have to see for yourself because mere words cannot adequately describe its incredible beauty.  So, if pink is your favourite colour this stunning, breathtakingly beautiful Pink Topaz is the gem for you and if you're on the market for something new, as well as an eye-candy experience, you really should visit LL Private Jewellers where they have an amazing collection of Pink and other colours of Topaz and see for yourself. 
This is also true – seeing for yourself – the Northern Lights Mystic Topaz and the Mercury Mist Topaz that are so gorgeous the only way to describe them is to say they are like a kaleidoscope or a shimmering rainbow of vivid and ever changing mesmerizing colours.  The Northern Lights Mystic Topaz, so named for northern lights phenomenon that occurs in the northern sky, made its debut in 1998 at the Hong Kong Jewellery Fair and since then its popularity has increased so much that some insiders consider the Northern Lights Mystic Topaz to be the most beautiful gemstone of the 20th century. 
The Mercury Mist Topaz is somewhat the opposite of the Northern Lights Mystic Topaz because it is somehow softer in colours of blue, pink, purple, light green and gold that seem to float over the top of this more transparent, incredibly beautiful gemstone as though to bathe it in an ethereal, sparkling, vibrant light.
Again, though, if you haven't seen the Northern Lights Mystic Topaz, the Mercury Mist Topaz, or that incredible Pink Topaz you owe it to yourself to arrange a visit to LL Private Jewellers for an eye candy experience of their Topaz gemstones of all colours. You really won't be disappointed.  And, if your birthday is in November, this beautiful gem might just be the perfect birthstone for you. 
Please note too that both the Northern Lights Mystic Topaz and the Mercury Mist Topaz are NOT lab created gems but real gemstones whose base is a white topaz that has been coated with an ultra-thin special reflective coating or film to create their spectacular rainbow effect.
For more information about Topaz please call LL Private Jewellers at 604-684-6343.