Rubellite Gemstones & Jewelry Buying Guide Vancouver
September 10, 2021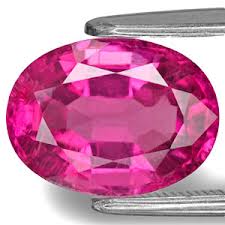 If you are well acquainted with gems of all colours and varieties you will most certainly know of the Rubellite. But if your knowledge is limited to a few or many favourite and better known gems a Rubellite may be new to you. I assure you though it's well worth your while to check it out because it is an incredibly beautiful gem whose vivid colour ranges from a shocking pink to a deep purplish pink to purplish-red and is somewhat similar to cherry blossom clusters in full bloom in the deepest shade of pink. At the same time, though, this hardly describes the Rubellite's seductive colour but I can think of no other example in nature to give you so you can visualize this fabulous colour. 
I mean, if you were describing something blue you might say it is the exact colour of the sky but the Rubellite's colour in that intense pink is unique. And, if you are thinking a Rubellite may be associated with a ruby because of the name and somewhat similarity of colour you would be wrong because the Rubellite is, in fact, a member of the colourful tourmaline family that comes in a variety of colours including pink. A Rubellite should not, however, be confused with a pink tourmaline because they are distinctly different gems and only those stones with that intense or most saturated colour is worthy of the name Rubellite. 
What criterion differentiates a Rubellite from a pink tourmaline? 
The answer in a single word is light because many gemstones are affected by and/or react differently to a light source, whether artificial or daylight , causing them to change their colour. The Rubellite, on the other hand, is not affected by light so never changes its magnificent colour but shines with the same intensity of colour in daylight as in artificial light whereas the pink tourmaline displays a brownish tinge in artificial light.
Looking out my window to both right and left I have a perfect view of those cherry trees with their deep pink blossoms interspersed with the white blossoms of their neighbouring trees. They create a truly awe-inspiring landscape of colour that surely would inspire any nature painter.  I'm hopeful my descriptions, however inadequate they are, of a Rubellite will inspire you too to see this exquisite gem for yourself by going to LL Private Jewellers to check out their exciting Rubellite collection and perhaps also inspire you to create your very own unique piece of jewellery using a Rubellite as the centre stone accompanied or surrounded by white diamonds on white gold.
LL Private Jewellers sell fine quality of Rubellite of all shapes and sizes. For more information about Rubellite please contact us.