Paraiba Tourmaline, Gemstones
August 10, 2021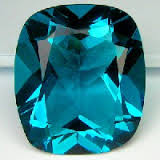 I just couldn't resist including a photo of this green tourmaline – not just any green tourmaline but the extremely rare Paraiba Tourmaline that was first discovered in Brazil's Paraiba state in 1989 and introduced to the world the following year. Like the Tsavorite and the Russia Chrome Diopside, the Paraiba Tourmaline seems to glow and sparkle, because it too is highly refractive but unlike either the Tsavorite or the Chrome Diopside this gem's colour, that had never been seen before in any gemstone, is an unusual vivid blue-green that can only be described as mesmerizing.
It's unique colour and electrifying effect come from the presence of copper and manganese to make it a truly incredibly beautiful gemstone that, once seen, is sure to become an instant favourite.  In fact, if you're looking for a show-stopper or a gem that can be seen across the room, the Paraiba tourmaline is IT.
Imagine too, if you're considering an engagement ring, a Paraiba tourmaline as the centre stone surrounded by colourless diamonds set in yellow gold – wow! I say this with absolute confidence because I've seen such a stunningly gorgeous ring, that also qualifies as eye candy. But here too, like the Tsavorite, Chrome Diopside, AKA the Russian Emerald, you need to see it in person rather than just the photo below, which is both true to the colour and certainly beautiful, but in person you too will experience its mesmerizing effect.
Russian Chrome Diopside
Like the tsavorite, the Russian Chrome Diopside is named for its place of origin – Russia, or to be precise Siberia. It is a most amazing colour of green sometimes described as forest green and like the tsavorite, it sparkles and glows with a brilliance because, like the tsavorite, it is highly refractive. It is also the most affordable of all the green gems and, like the tsavorite, is untreated and often substituted for the emerald. Its name, though, seems to be not in keeping with the gem's beauty but don't let that fool you or put you off because it is incredibly beautiful and can easily qualify as take-your-breath-away eye candy.  And, if that isn't enough to inspire you to see the Chrome Diopside for yourself, you might consider the myths and folklore associated with it, namely, the belief that it is a creative stone that can not only bring about desired goals but aid in visualizing these goals, improve the wearer's intellect and analytical abilities and, like the tsavorite is said to beneficial to the wearer's health. These myths aside, however, take my advice, if you haven't already seen this magnificent green gem, and go see it for yourself at LL Private Jewellers where, I guarantee, you won't be disappointed.
For more information about Paraiba Tourmaline and Russian Chrome Diopside please contact LL Private Jewellers at 604-684-6343.