Citrine Gemstones and Jewelry Buying Guides
October 19, 2021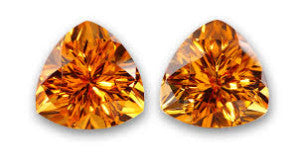 Like brown, orange has never been one of my favourite colours until I discovered the corresponding coloured gems – brown or chocolate diamonds and orange, orange-red, and tangerine gemstones. Now, I can honestly say I love orange gemstones and have several favourites that are so stunning they almost take your breath away.
Before identifying my favourites, though, and in case you're unfamiliar with these orange beauties, you should know that there are at least 14 that I know of that qualify as Orange Gemstones.
They are: Zircon, Sapphire, Tourmaline, Moonstone, Star Moonstone, Fire Opal, Andesine, Imperial Topaz, Citrine, Madeira Citrine, Spesssartite, Sunfire Quartz, Baltic Amber and Tigers Eye. All of them are in that mouth-watering orange colour similar to that of the fruit but my favourites are Sapphires, Fire Opals, Sunfire Quartz, Madeira Citrine and Spessartite.
Orange Sapphire, Fire Opal, and Sunfire Orange Quartz
 The Orange Fancy Sapphire is a beautiful colour similar to that of the real fruit but that mouth-watering colour is produced by heat treatment whereas the Fire Opal and the Orange Zircon are natural gemstones that need no treatment of any sort. The Fire Opal, the national gemstone of Mexico where the very best Fire Opals come from, is a true radiant orange that simply cannot be overlooked or undervalued not just because of its fabulous fiery colour and play of colour that evokes feelings of warmth and well-being in everyone who sees it but also because it is a top quality gemstone in its own right.
The Sunfire Quartz is another vibrant orange-red gemstone that makes me immediately think of a fiery sunset whose colours range from a fairly light orange to an intense deep red orange similar to that of the fruit. In other words, it is a sensational colour that's sure to add a neon blaze of colour, like that of a glorious sunset, to your jewellery wardrobe.
Citrine, Madeira Citrine and Spessartite
When I think of the Citrine semi-precious gemstone I automatically think citrus, specifically lemon because of its beautiful lemony colour though many stones are in warmer colours of radiant yellow to brownish red. The Citrine is one of the birthstones for November and definitely appropriate because it brings a little sunshine to November's dull, dreary, and often dark days. The Citrine is also often mistaken for a topaz even though they are two different gem species. This confusion undoubtedly arises because of the sometimes warmer colours of the Citrine and that is why some are known as Madeira Citrine, which really is only a trade name.
The colours of the Madeira Citrine, though, are sensational and, like the Sunfire Quartz, are reminiscent of all the colours of sunset, from a dark yellow to tangerine, to a clear, vivid orange. And, when paired with Russian Dioposide accents the result is even more spectacular and definite eye candy. The Spessartite Garnet, however, is my #1 favourite orange gemstone because it is a pure orange without even a hint of brown tints or other colours. And its high refractive index gives it exceptional brilliance making it a most desirable gemstone. It is also a natural stone, needing no treatment of any sort.
If you've never seen or are unfamiliar with these orange beauties you really owe it to yourself to see them up close and personal so, do yourself a favour by going to LL Private Jewellers to see their amazing collection of orange gemstones and prepare for an incredible eye candy and mouth-watering experience. Honestly, you won't be disappointed. And maybe, like me who once didn't care for the colour orange, have a change of heart and become like me an admirer of orange gemstones.
For more information about orange gemstones please contact LL Private Jewellers at 604-684-6343.