Diamond Engagement Rings
August 24, 2021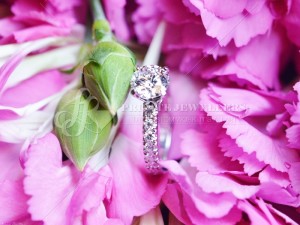 Getting engaged is surely one of life's happiest and most significant events, for it not only lets the world know you're part of a couple but also gives you the opportunity to create or design a ring that is uniquely yours symbolizing everything you hold dear and with the promise of a beautiful life together. If this is you with an engagement ring in your future you need to see Joe at LL Private Jewellers so he can make your design a reality. 
Engagement Ring History
Why an engagement ring? Who first thought of such a ring to signify an impending marriage? The answers to these and other questions can be found in the historical record though some, undoubtedly, are pure fiction or speculation, e.g. the tokens given by cave dwellers to signify possession of their women. These cases cannot be proved or confirmed as the rings would long ago have disintegrated into dust leaving no trace of them ever being on her finger. What we know for sure, though, is that jewellery was worn 9,000 years ago when diamonds were first discovered in India. But there is also proof that the Romans and ancient 
Egyptians 2,000 + years ago put rings on the fingers of their intended brides, and it was the Romans who decided which finger the ring should go on – the fourth finger of the left hand, now known as the ring finger – as it was believed that finger was  directly connected to the heart by the vena amoris (literal meaning or translation from the Latin being vein of love). Also, in ancient Rome, Pliny the elder wrote that a gold ring was given for the marriage ceremony and special occasions but for everyday wear the gold ring was replaced by an iron one that served the dual purpose of a binding legal agreement and his ownership of her. 
These rings, though, seem more to be wedding rather than engagement rings whereas in 1477 Archduke Maximilian of Austria commissioned an engagement ring for his intended bride Mary of Burgundy. This ring, the very first recorded engagement ring was made of thin, flat diamonds in the shape of an "M". The ring must have been a huge success and greatly admired for it sparked a trend for diamonds and diamond engagement rings among European aristocracy and nobility. This trend, moreover, and the popularity of ornate engagement rings continued well into the Victorian and Edwardian eras with diamonds being mixed with other gems, enamels and precious metals in filigree settings.  By the 1930s, however, engagement rings became less popular due primarily to the dismal economic climate of those years. 
Then, in 1947 De Beers came up with their classic slogan, "A diamond is forever" and that is why diamonds are the gems of choice for engagement rings, for a diamond implies durability and conveys the meaning that the marriage is forever. Diamonds, in fact with their purity and sparkle, have now become symbols of commitment in just about every corner of the world. 
Your Engagement Ring
You have made the wise decision to have your engagement ring custom-made. I say wise decision because custom is affordable, probably less than you think, and most likely less than you would pay in a high-end jewellery store. As well, your ring is exactly what you want, how you saw it in your mind's eye. If it's still in the vision stage, you really need to talk to Joe at LL Private Jewellers because his amazing talent will make your vision a reality, a show-stopper that you'll cherish every day of your life and perhaps make into a family heirloom. 
For more information about diamond engagement rings please contact LL Private Jewellers at 604-684-6343.