Diamond Jewelry Guide: What's New for 2021
August 30, 2021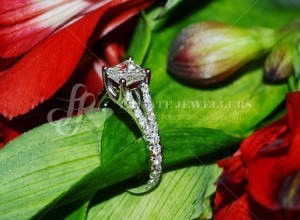 What's New for 2021?
 In case you were wondering about what's in or new in jewellery for 2021, you have a fabulous array of choices starting with the assigned colour for 2021, which is Radiant Orchid or Fuchsia.  But this is a conundrum because neither Radiant Orchid nor Fuchsia is really a colour such as is red, blue, green, orange even with their many shades and tones but there it is, Fuchsia is the designated Pantone colour for 2021, a luscious, juicy colour that makes me think of raspberries.  As for a gemstone that best suits or represents fuchsia you might choose the incredibly beautiful Rubellite, Pink Tourmaline, Morganite, Kunzite quartz or, my choice, Pink Amethyst with its purplish undertones. 
Everything Old is New Again
Another choice, also a bit of a conundrum because it's not new but definitely in for 2021, is Art Deco jewelry thanks to last year's adaptation of F. Scott Fitzgerald's The Great Gatsby and, perhaps to a lesser degree, Julian Followes' Downton Abbey where Lady Mary Crawley was often seen wearing an exquisite diamond encrusted feather-shaped hair pin or clip ornament, to prove yet again the truth in the saying, "Everything old is new again". Jewelry fashionistas or experts, in fact, say that 1920s and 1930s jewellery comes back into fashion every 20 or 30 years and is loved by women of all ages. 
The third in for 2021 may come as a surprise but it really shouldn't because it too harks back to Art Deco and the 1920s, and it is insect brooches and pins both for day wear and evening wear. How does this relate? It relates because the Art Deco movement looked to many different and diverse sources for inspiration, one of which was Nature with another Pharaonic Egypt after Howard Carter's discovery of Tutankhamen's tomb in 1922 to make Egyptian motifs popular. One of these motifs was the scarab (dung beetle). So, if you have a fondness for a particular insect – be that a bee, butterfly, ladybug, dragonfly, scarab (beetle), whatever – you'll be at the height of fashion this year when you wear it and you will be as fashionable as your peers on the east coast, London (UK), Paris, Milan, etc. You might also consider Mill grain decoration and/or filigree for your custom piece of jewelry because both were favoured in the Art Deco period and, in fact, were typical of that era. If you don't know what mill grain decoration is, ask Joe when you go to LL Private Jewellers because it requires a special engraver's tool to make the little bead-like decorations. 
Shapes
You may, of course, be totally repulsed by the very idea of wearing any sort of insect but you can still be fashionable because Art Deco also took inspiration from geometric designs – circles, squares, triangles, arcs, rectangles – so you might consider one or a combination of those shapes in white gold and dress it up with black and white diamonds for a stunning effect or, to be in keeping with the assigned colour, the fuchsia-coloured stone(s) of your choice and you're immediately in the Art Deco mode of the 1920s.  You might also consider platinum rather than yellow or white gold because platinum was the metal of choice in the 1920s and 1930s.  If, however, you're still unconvinced about Art Deco jewellery whether insect or geometric design, yet you want the vintage look with a modern feel you should consider feathers or other nature inspired motifs you find appealing. Note too that Art Deco in its heyday in the Roaring Twenties represented exuberance, glamour and luxury. 
So, now with all this information as to what's in vogue for 2021, you know what to do: take your design(s) or your vision(s) if they're only in your mind to Joe at LL Private Jewellers so he can work his magic to create a piece of jewellery that is reminiscent of Art Deco's euphoria, is uniquely yours and celebrates your good taste and individual style. 
For more information about custom diamond jewelry please contact LL Private Jewellers at 604-684-6343.