Buying Custom Engagement Rings in Vancouver
September 15, 2021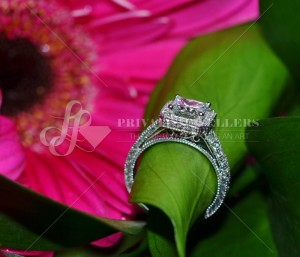 This custom engagement ring is 19k white gold and is hand assembled from hand carved cast and hand fabricated components. The ring setting has a prong set princess cut diamond with a halo of twenty bead set round diamonds around it. The setting measure 9.8x10x2.3mm and is a square shape with cut corners. Under the princess cut diamond is a scroll design. The shank has raised shoulder with ten bead set round diamonds on each side of the halo. the ring width measure 2.35 to 2.45mm and the thickness measure 2.1 to 120mm. 
The finish is a combination of high polish, mill grain, and hand engrave chevrons. There are no signs of wear on the ring. This diamond ring containing forty one diamonds. Twenty full cut round brilliant cut natural diamonds, measuring 1.6mm, twenty full cut round brilliant cut natural diamonds measuring 1.4mm and one square modified brilliant cat – princess cut natural diamond with carat weight of the diamond is 1.26carats by scale.
For more information about custom engagement rings please contact LL Private Jewellers at 604-684-6343.