Blue Sapphire, Topaz and Apatite - Buying Guide
September 25, 2021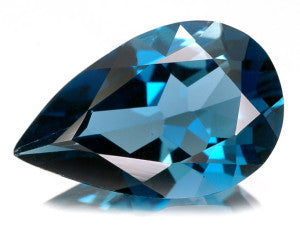 Again, there are many true-blue gemstones too numerous to identify here so I am limiting my choice to my favourites:  Neon Blue Apatite, Blue Topaz and, of course, Blue Sapphire. 
There are actually two Blue Apatite gemstones: a soft pale blue Apatite that reminds me of the Aquamarine gem or the blue of a spring sky and its sister, the Neon Blue Apatite in a truly amazing blue that seems to glow and catch the light just like a diamond does. Its colour, though, especially in those gems that come from Mexico and Brazil is medium to a dark blue reminiscent of the deep-blue of a Blue Sapphire but with the addition of the neon influence.
It is rated at 5 on the Mohs scale and is therefore not recommended for rings as it is soft though not fragile. If you're on the hunt for a true-blue gem that is both breathtakingly beautiful and affordable, this Neon Blue Apatite might well be the one for you.
Blue Topaz, one of December's birthstones, rated as 8 on the Mohs scale, is the second most popular coloured gemstone ever (second only to the Blue Sapphire) and one of the most affordable gemstones with no trace of any other elements making the Blue Topaz a true-blue gemstone. Its colour though, has three different shades or levels, all true-blue: London Blue Topaz, a rich deep-blue colour and the most desirable shade; Swiss-blue Topaz, a medium blue and the second most popular shade, and the lighter Sky-blue Topaz. 
Blue Sapphire
The first gem that comes to mind when asked to name a blue gemstone is the Blue Sapphire probably because it is one of the best-known gemstones, and considered one of the most precious of all gems available today. On the Mohs scale it has a hardness of 9, second only to a diamond. Its colours are sensational, ranging from a light-blue to deep-blue with the deep-blue being the most desirable. It is one of September's birthstones.
But don't take my word for any of these fabulous blue gems – I might be biased because they are favourites. Instead, go see them for yourself at LL Private Jewellers and then decide which one(s) you prefer.
For more information about blue sapphire, blue topaz or blue apatite please contact LL Private Jewellers at 604-684-6343