Estate, Vintage, Antique Jewelry - Complete Guide
September 03, 2021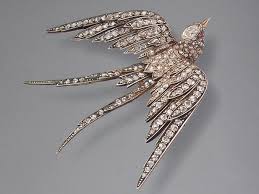 What words or images come to mind when you hear the word 'used'? Do you automatically visualize or think of something old, threadbare, shabby, second-hand, worn-out, etc.? The 'used' word has suffered greatly and taken on a rather disreputable meaning but creative people in many different industries or situations have substituted euphemisms such as Vintage, Antique, and Estate (jewellery) to entice or seduce us into changing our conception or view of the word. Examples are the car industry and their preferred 'executive-driven or 'pre-owned' euphemisms, and television programmers who entice viewers with 'encore performances', and 'memorable entertainment' rather than re-runs. 
Clothing and jewellery from past eras can also be put into the 'used' category but the fashion industry prefers the Vintage euphemism with the jewellery trade opting for Antique or Estate euphemisms.  In the jewellery trade specifically, the word 'used' is no longer disreputable or a hindrance. Instead, many of us – I'm included here – scour yard sales, rummage sales, and even thrift shops with eagle eyes hoping to find a nifty-looking pre-owned item and been thrilled with our purchase(s). What we do with that pre-owned item is a personal choice whether keeping it as is or taking it to a jewelry designer, for cleaning or a make-over.  Whatever your decision, be that an appraisal, cleaning, or perhaps make-over to make the piece uniquely yours I suggest you go see Joe at LL Private Jewellers in downtown Vancouver for an honest opinion and any changes you would like to make. Even if you like the piece as it is, it will most likely need cleaning, so again you need to put it into the hands of a professional rather than cleaning it yourself  with a method you found on the Internet. 
I'm sure you must have heard the sayings: "Everything old is new again", and "There is nothing new under the sun". Both are true but no new ideas aside you just have to think of whatever item – Jewellery or fashion – in a different way as in thinking outside the box and you immediately know that they both refer to rebirth, renewal or reinterpretations of the old. I have it on good authority from those in the know as to upcoming trends that retro jewelry from the 1950s is making a big comeback as are some of the styles from the 1920s and 1930s, simply made over in some way with a twist or a tweak or, in jewelry, replacing a gemstone or two according to fashion dictates or the owner's preference.  Depending on your taste, you may not like retro anything at all but you're imaginative and creative so you can easily take the old and make it into something brand new for the 21st century.  Whether you would re-work an art nouveau pendant from the late nineteenth century or a bracelet or any other jewelry item from the 1920s or 1930s would, of course, be a matter of choice or taste. But if you go that route, to change it in some way to make the piece uniquely yours, you really should consult a professional goldsmith for the best possible outcome and again, I recommend Joe at LL Private Jewellers. 
For more information about estate, vintage and antique jewelry call LL Private Jewellers at 604-684-6343.